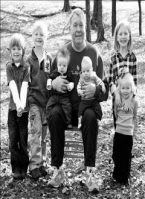 Obituary for Deral Devon Long
Deral Devon Long, 68, died September 27, 2017 in Oklahoma City, Oklahoma. Services will be held at 2:00 pm Tuesday, October 3, 2017 in the Billings Funeral Home Chapel. Interment will follow in Elmwood Cemetery.
Deral was born June 19, 1949 in Edgewood, Texas to Nona Faye Woods and George Winton Long. He is survived by his older brother, Wendell Long and wife Virginia Long, of Vanhorn, Texas and his little sister, Sherry Jividen and husband Roger Jividen of Woodward, and his little sister Cathy Rodgers and husband Michael Rogers of Kauffman, Texas as well as many nieces, nephews, cousins and aunts and uncles.

Deral served in the United States Army from 1969-1971 and eventually settled in Oklahoma City. He was a longtime employee of AT&T/Lucent Technologies.

Deral was a proud father to his son Justin Long of Edmond, and Becky Willmon of The Woodlands, Texas as well as their spouses, Jennifer Long and Daryl Willmon. He was a beloved Papa to Makenzie Willmon, Nate Long, Isaac Long, Esmé Willmon, Silas Long and Eli Willmon and he adored and doted on all of them. He worked hard to give his children and grandchildren a better life and always told them how proud he was of them. Papa Deral was known for movie nights with his grandkids with unlimited popcorn and candy and fun. And he also enjoyed giving outsized Christmas and birthday gifts to his grandkids.

Deral had a big heart for people and was known for giving the shirt off his back. There are many stories of him buying groceries, gifts, cars and just helping those in need

His children knew he was the one to call when they needed him and he always helped with remodeling homes, moving, and many other projects, especially cleaning and organizing.

Deral loved Led Zeppelin , and a good home cooked meal. Which is one of the many reasons he really loved his daughter in law, Jennifer Long. She fed him well! He also loved his family. He will be greatly missed.

Deral is preceded in death by his father, George Winton Long, his mother, Nona Faye Woods, as well as his beloved niece, Riann Gibbs.

In lieu of flowers, his family would like donations to be made to the Mason Gibbs College Fund with the funeral home accepting the contributions.


Previous Events
Funeral Service
Billings Funeral Home Chapel
1621 Downs Avenue
Woodward, OK 73801
Burial
Elmwood Cemetery
2755 Downs Ave.
Woodward, OK 73801