Obituary for Lowell Dean Eilers
Lowell Dean Eilers went to be with Jesus on Saturday, September 16, at 12:45 p.m. in the Woodward Regional Hospital. A celebration of his life will be held Thursday, September 21, 2017, at Living Word Fellowship in Woodward, Ok. at 2:00 p.m. Burial will follow in the Mooreland Cemetery with the United States Army providing Military graveside rites. Arrangements are under the direction of the Billings Funeral Home.
He was born May 2, 1947, to Pearl Eva Valentine (Dail) Eilers and Fredrich Gerhard Eilers in the Mooreland Hospital. He grew up in Mooreland and attended all his school years there. He was a very active member of Boy Scouts, 4-H, FFA, sports, vocal music, and band. As a high school senior, he earned the Degree of State Farmer in FFA. Lowell and his siblings showed live stock, bred and raised on the Eilers farm, where the family produced prize winning registered Hereford cattle. He was a member of the Mooreland High School Football State Runner-Up Team in 1963. After graduating in 1965, he attended one year at Panhandle State University on a full ride football scholarship. Lowell then served 3 years in the United States Armed Forces, serving one of those years in Vietnam, where he was exposed to Agent Orange. After his honorable discharge in the fall of 1969, he continued his college education at NWOSU, again on a full ride football scholarship. While playing football at Northwestern, he turned down the invitation to attend the Cincinnati Bengals training camp to try out for their professional football team. He completed 3 ½ years of college. While at Northwestern, he met and married Betty Sue Bowers of Laverne, Ok. They purchased a farm just southwest of Mooreland, across the road from his parents, in June of 1971, where they resided until they built a house in Mooreland in 1981. They were blessed in 1972 with the birth of their first child, Christy Lynn Eilers Poston. Jeremy Donovan Eilers joined the family in June of 1975 and Justin Paul Eilers completed their family in February of 1978, when he was born on his grandmother Pearl's birthday, which was Valentine's Day.
Lowell farmed, ranched, and had a construction business until he began working for Otis Engineering in the oil field. In 1979, Lowell conceived and oversaw the construction of a state of the art oil field steam cleaning and pressure testing unit which he called Master Steam. He expanded his business by adding another bigger unit, and had several employees. Lowell successfully operated the business until the oil field bust in 1987. Lowell worked in various jobs after that, mostly in the oil field industry, until retiring from Simmons Machine Works in 2015.
When not working, Lowell was a devoted husband and father who thoroughly enjoyed family gatherings and family vacations with all his kids and grandkids. In the evenings and weekends he could be found at the farm preparing food plots for the upcoming seasons or helping his sons construct hunting stands. Betty Sue often joked that the farm was his "dadgum wildlife reserve". Lowell often enjoyed fishing at the area lakes with his sons and grandkids.
As a child, his beloved mother encouraged the development of his love for music in he and his siblings' lives. The Eilers were known as a musically gifted family. They sang in the Methodist church choir, did specials, and sang for special occasions. One of the highlights for the Eilers family was a special concert in honor of Lowell's parent's fiftieth wedding anniversary on June 2, 1979. The four surviving children (June, Jean, Joyce and Lowell) serenaded their parents, singing Joyce's music to a packed church.
Lowell loved the Lord and the Lord loved him. While a teenager, he accepted Jesus as his Savior at the Mooreland First United Methodist Church, but his love for the Lord deepened as the years went by. Lowell has often been described as a gentle giant, kind, humble, accepting, loving, fair, honest, courageous, helpful, and caring. As an adult, he served as a Royal Ranger Commander at the Mooreland Assembly of God, where he invested many hours planting seeds of faith in the lives of young men in the classroom and through outdoor camping trips and activities. He continued this work while attending Living Word Fellowship in Woodward, Ok. He also began his music ministry by playing the bass guitar at Living Word and in a band called New Blood, organized by Ken Fuller. As a result of his love for the Lord, Lowell loved and accepted everyone, and would never miss an opportunity to give his testimony to others. At the time of his death, Lowell served as an elder and praise and worship leader at the New Covenant Church in Woodward, Ok.
God always had His Hand on Lowell's life. At the age of 3, Lowell overcame polio. In May in 1957, at the age of 10, he was electrocuted in a farming accident that took the lives of two of his brothers, Floyd, age 16, and Raymond Lee, almost 12. Lowell spent that entire summer in the Mooreland Hospital, getting out just in time to swim in the Mooreland pool one time before school started, and fully recovered from that accident. Despite all of the early setbacks in life, Lowell grew to a height of 6 feet 6 inches tall, and possessed an unusual strength, for which he was known throughout the community and surrounding areas. While in the service, Lowell was snorkeling off Pebble Beach in California and a wave drove him into the rocks which broke his jaw and rendered him unconscious. He awoke on the beach. Later in life, Lowell survived a farming accident in which he was nearly run over by a tractor, wounding his back. Finally, following a diagnosis of a very rare cancer, a liver sarcoma, brought on by his exposure to Agent Orange in Vietnam, Lowell was given 4-6 months to live in January 2016. Twice, he was brought back from death's door, through the prayers of many people and churches, the last time in April, 2017. God gave him 20 months, outliving the doctors' diagnosis by over a year, to be with his family and friends before he went home to be with Jesus.
Lowell is preceded in death by his parents, his sister June Braly and husband Dr. Berton Braly, three brothers, Dennis Dail, Floyd Evart, Raymond Lee, and his sister, Joyce Eilers Bacak. He is survived by the love of his life, Betty Sue. He is also survived by his daughter Christy Poston, and her children Hunter, Fischer, and Trapper; his son Jeremy Eilers and wife Sarah, their children Madelene, Raymond, Hannah, Elizabeth, and Alissa; son Justin Eilers and wife Julie, their children Emily, Annabelle, Dennis, and Eva, all of Mooreland. He is also survived by his sister Jean Burns and her husband, Dr. Charlie Burns of Stillwater, and their children, Douglas and wife Nickie Burns and their children; Deborah Cochran, and husband Larry and son; Taylor Burns and wife LouAnn. His deceased sister June Braly's family, Susan Loebner and husband Neil and son, Paul Braly and wife Jacquie and children, and Margaret Kerrigan and husband Kevin and children, David Braly and wife Heidi and children. Lowell is also survived by Betty Sue's siblings, Delores Currier, Judy McGuire, Donovan Bowers, Iva Lou Dunn, Charlene Jett, Jack Bowers, and Denise Gabel and their spouses, Harold McGuire, John Dunn, Karl Jett, Carol Bowers, and Steve Gabel, and many beloved nieces and nephews on that side of the family, who he also loved very much. He also leaves behind his special friends since school days, his "brothers", David Wells, Bob Cole, Charlie Ridenour, his college buddy, Carey Perkins, and his special friends in Christ, Dwight Van Dorn, Ed Dowty, Don Yauk, and Dr. Kenan Kirkendall.
To send flowers or a remembrance gift to the family of Lowell Dean Eilers, please visit our Tribute Store.
Previous Events
Funeral
Living Word Fellowship
1310 Oklahoma Ave.
Woodward, OK 73801
Cemetery Details
Location
Mooreland Cemetery
North of Mooreland
Mooreland, OK 73852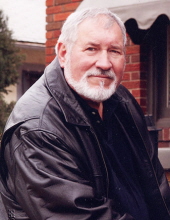 Thank you for sharing your
memory of Lowell
Provide comfort by sending fresh
flowers from our local florist.
No thanks, please don't show me this again.