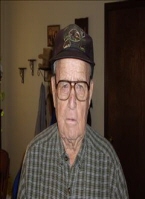 Obituary for Marvin O. Perrin
Marvin O. Perrin, 88 year old Fargo resident, died Tuesday, September 26, 2017 in Shattuck. Funeral services will be held at 2:30 p.m. Friday, September 29, 2017 in the Billings Funeral Home Chapel with Reverend Jeff Ralston officiating. Burial will follow in the Fargo Cemetery.

Marvin Oliver Perrin was born March 30, 1929 in Tangier, Oklahoma; he was the son of Arthur Luther and Mabel Mae (McKenna) Perrin. Marvin attended the Fargo schools and when he got out of school he went to work as a Bulldozer Operator. He was inducted into the United States Army in 1953 and was sent to Germany where he was a Mechanic. He honorably served his country and was later discharged.

Marvin was united in marriage to Betty Ruth Welty on July 14, 1956 in Woodward, Oklahoma. They made their first home in Woodward and were blessed with four children, Marcia, Gary, Judy, and Debbie. The family moved north of Fargo in 1961 where they resided until they passed away.

He worked as a farmer and rancher and loved spending time with his family. Marvin was always willing to help his neighbors and he loved watching old westerns on television. Some of Marvin's favorite times were having coffee with the local farmers and friends.

He is survived by three daughters: Judy Jones of Alva, Marcia Briant of Cleo Springs, Debbie Perrin of Fargo; daughter-in-law, Cindy Bentley and husband Kent of Shattuck; two sisters, Anna Mae Thomas of Hobbs, New Mexico, Wilma Airrington and husband John of Woodward; sister-in-law, Naomi Welty; seven grandchildren, Wendy Fitzsimmons, Randy Briant Jr. and wife Ashley, Lyn Briant, Jamie McAlister and husband Josh, Jack Jones, Kara Bentley, Kyle Bentley; great-grandchildren, Riecyn Jones, Kourtney Coppock, Kaitlyn Fitzsimmons, Cierra Briant, Chelsea Briant, Megan Briant, Makylie Briant, Malachi Briant, Kadyn Bentley, Tatym Stahlman, Nathyn Stahlman, Morgan Martin, Addisann Weber, Breckyn Weber, Bryce Briant; four great-great-grandchildren, Cooper Coppock, Ryder Coppock, Quintyn Redinger, Hailie Briant; other relatives and friends.

He was preceded in death by his parents, his wife Betty Perrin on August 7, 2017, one son, Gary Perrin, grandson Vance Perrin, two great-grandchildren, Christopher Fitzsimmons, Daniel Fitzsimmons, one brother, Bob Perrin, one sister Verna, brothers-in-law and sisters-in-law, Sam Welty, Ed Welty and wife Alice, Dick Welty and wife Irene, Georgia Kornele, Ila Kornele and husband Dick.


Previous Events
Funeral Service
Billings Funeral Home Chapel
1621 Downs Avenue
Woodward, OK 73801
Burial
Fargo Cemetery
North Fargo
Fargo, OK 73840