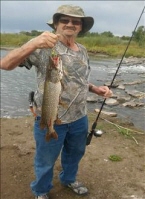 Obituary for Marvin Weir
Marvin G. Weir, 68 year old resident of Woodward, died Monday, October 9, 2017 in Woodward. The family will receive friends at the Woodward Church of Christ on Thursday, October 12, 2017 from 2:00 p.m. until 4:00 p.m.

Marvin G. Weir was born March 22, 1949 in Woodward; he was the son of Arlie Melvin and Norma Jean (Campbell) Weir. He grew up three miles south of Sharon and attended Sharon High School. He attended college one year at Southwestern Oklahoma State in Weatherford and attended the Elk City School of Preaching. He was married to Debby Diane Duncan in 1968 in the Church of Christ in Woodward. Marvin lived in Dodge City, Kansas and Lubbock, Texas before moving back to Sharon, living there for 45 years. Marvin was a mechanic, working 20 years for Doug McNeil and worked as a Heavy Equipment operator for 17 years for Durango.

He enjoyed hunting, fishing, camping, reloading and shooting, and golf cart rides with his wife. He also loved operating heavy equipment. He was a member of the NRA. Marvin loved being with family and friends. He felt closest to God in the mountains and loved helping his son work on the land there. Marvin loved animals especially his dogs, Minnie and Charley.

He belonged to the Church of Christ and the Baptist Church since 1968.

He is survived by his wife, Debby Weir of Woodward; two sons Bart Weir and wife Kelly of Laverne; JC Weir and fiancee Stacey Booth of Blanca, Colorado; one daughter, Robin Oines and husband Phil of Seattle, Washington; two brothers, Stephen and wife Cindy of Tyler, Texas; Larry and wife Freida of Sharon; one sister, Sarah Edwards and husband Darrel of Sharon; two grandchildren Jared Swinford and Jaden Swinford; other relatives and many friends.