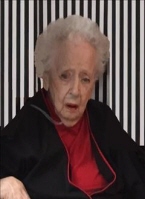 Obituary for Shirley M. Hogue
Shirley M. Hogue, 93 year old Mooreland resident, died Thursday, December 7, 2017 at the Mooreland Heritage Manor. A memorial service will be held at 11:00 a.m. Thursday, December 14, 2017 in the First United Methodist Church of Mooreland. A family burial will be held prior to the memorial service in the Mooreland Cemetery. Arrangements are under the direction of the Billings Funeral Home.

Shirley M. Hogue was born November 24, 1924 in Waukegan, Illinois. She was the fourth child born to the union of her parents, Gage Hill and Ruth Alexandria (Morlock) Stevens. On December 14, 1946 she married Joseph A. Hogue in her church in Waukegan, Illinois. They were married 55 years at the time of Joe's death on December 3, 2002.

She was employed at Great Lakes Naval Base during World War II. After serving that war Joseph was hired by American Telephone and Telegraph and they traveled for 15 years. Joe was transferred to Illinois Bell and they returned to Waukegan, Illinois. Shirley was then employed by American Can Company, and this was followed by The New-Sun, a Chicago suburb newspaper, until her retirement.

Shirley was active in the First United Methodist Church in Waukegan, Illinois. She served as Sunday School Teacher for 12 years, Sunday School Supervisor, Editor of the Church Newsletter, Secretary of the Administrative Board and was in charge of serving meals to the needy. Mrs. Hogue was also active in other organizations and she gave willingly of her time to the American Legion Auxiliary, where she served four terms as President of Unit 281. She was also Tenth District President and 2nd Division President and 12 years as Unit 281 Secretary. She was chosen to serve as the Auxiliary Chaplain for the State of Illinois. She participated in serving U.S.O. at both Great Lakes Naval Base and Fort Sheridan. She later served two terms as Worthy Matron of the Order of the Eastern Star Chapter 209, in 1976 and 1979. Mrs. Hogue was also a member of the Lake County Republican Women's Club, where she served as Secretary, Waukegan Republican Women's Club and was a member of the Waukegan Women's Club.

In 1979, Shirley Hogue was honored to have been presented with the Freedom Academy of Lake County's award for service to her community, state, and nation.

When Shirley and Joe returned to Oklahoma, where her husband had been raised, she was active in the First United Methodist Church in Mooreland. She served as Worship Chairman, on Board of Trustees, Pastor Parish Committee, The Finance Committee and Secretary of the Administrative Board.

Shirley was preceded in death by her husband Joe, her parents, three brothers, Asahel, Chester and Harold Stevens, a sister Ruth Stevens.

She is survived by a sister Grace H. Shimp and husband Gene, nephews Robert Shimp and wife Carol; Kurt Stevens and wife Cindy.


Previous Events
Funeral Service
First United Methodist Church of Mooreland
302 S. Elm St.
Mooreland, OK 73852