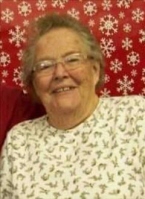 Obituary for Della Mae Rush
Della Mae Rush, 85, passed away Sunday, December 17, 2017 at the Harper County Community Hospital in Buffalo, Oklahoma. Funeral services will be held at 10:00 am Friday, December 22, 2017 in the Buffalo First Baptist Church with Reverend Jerry Hodges officiating. Interment will follow in the May Cemetery with the Billings Funeral Home in charge of arrangements.

Born on July 22, 1932 to proud parents Delmar Tearl and Pearl Mae (Popplewell) Powers. Della grew up on the family farm north of Gage, Oklahoma where she played with her older brother Jimmy Dell and looked forward to her cousins coming and spending summers with the family. Della, considered her cousins more like sisters and brothers.

Being raised on the family farm, Della learned the meaning of hard work, perseverance, responsibility and love. One of Della's many jobs growing up was to care for the chickens, thus, her love of the egg-laying fowl. Throughout her life she always had a flock of chickens to care for.

Another job that Della had growing up was driving the wheat truck into the Gage Elevator during wheat harvest. Della found the love of her life one wheat harvest while waiting in line to dump her truck.

Vernie Ray Rush, swept Della off her 16 year old feet that summer and were married December 18th, 1948. The couple settled in Booker, Texas where the couple became parents, three times over. Linda Jo was born April 13th, 1951, Danny Ray was born November 7th, 1952 and Deanna Mae was born October 13th, 1955.

After a couple of years living in Texas, Vernie and Della moved their family back to Oklahoma and settled on a farm south of May. Once Linda, Danny and Deanna were old enough to go to school, Della decided to go back to school herself. Della received her GED and earned a degree in Psychology/Occupational Therapy. Her first job outside of the home was at the Northwest Center for Behavioral Health in Fort Supply. She worked for a short while until one summer break from school, Linda whacked Danny in the head with a frying pan. After that, Linda, Danny and Deanna were not allowed to stay at home by themselves unsupervised.

All while taking care of her family, Della helped Vernie with the ranching and farming. She loved caring for all of the farm animals but watching over and caring for the baby calves was her most favorite. Throughout her life, Della enjoyed driving out to the pasture and seeing if there were any new baby calves.

Another one of Della's favorite things to do was to entertain. She loved having her family and neighbors around her kitchen table, not only could she bake a mean cherry pie but she was able to spread the gospel to her loved ones.

Vernie and Della raised their children and grandchildren to believe and love Jesus. Through the worn pages of the Rush Family Bible and many knee-bent prayers, each child and grandchild accepted Jesus into their hearts.
Della loved her family and displayed pictures of them all over her house. Not only was she proud of her 3 children, she was a proud grandma, great-grandma and great-great-grandma.

She is survived by her 2 daughters, Linda Brewer of Buffalo, Oklahoma and Deanna Simms of Gage, Oklahoma; 9 grandchildren, Regan (Nancy) Brewer of Buffalo, Oklahoma, Leslie (Jennifer) Brewer of May, Oklahoma, Regina Brewer of Okeene, Oklahoma, Misty (Jeff) Weber of Freedom, Oklahoma, Tony Rush, Felecia (Aaron) Davis of Sterling, Kansas, Traci Davis of Gage, Oklahoma, Jon (Cierra) Simms of Newcastle, Oklahoma and Skyla Rush of Vero Beach, Florida; 28 great-grandchildren, 7
great-great-grandchildren and 1 great-granddog.

Della was preceded in death by her parents, Delmar & Pearl Powers, brother Jimmy Powers, husband Vernie Rush, son Danny Rush and son-in-law Phil Simms.





Previous Events
Funeral Service
First Baptist Church of Buffalo
308 NE 2nd
Buffalo, OK 73834